Back to Earth:
Contested Histories of Outer Space Travel
May 4–July 29, 2023
Back to Earth: Contested Histories of Outer Space Travel (May 4 – July 29, 2023) is a multimedia exhibition and discursive program curated by Sara Garzón that seeks to critically engage mainstream narratives of space exploration. The program features the films Afronauts (2014) by Nuotama Bodomo (Ghana); Ningwasum (2021) by Subash Thebe Limbu (Nepal); Máquina Ancestral: Ureipy (2023) and Karaiw a'e wà (The Civilized, 2022) by Zahy Tentehar (Tentehar-Guajajara, Brazil), and See you later Space Island (2022) by Alice dos Reis (Portugal).
Addressing the ways in which imaginaries of outer space travel, space tourism, and cosmic mining continue to naturalize colonization, Back to Earth takes an intersectional approach to new planetary imaginaries. The program invites artists and filmmakers who from their Indigenous, Asian, Black, and feminist perspectives are reflecting on the implications of space exploration for racialized communities –especially as these exploratory endeavors continue to assert technocratic ideas of progress that erase, negate, and disavow the capacity of diverse forms of life to exist and thrive on our planet. Following philosopher Kelly Oliver's provocative question: "how do we share the Earth with those with whom we don't share the world?" we have invited conceptions of the world that do not begin from a totalizing view of the globe. Instead, we have centered on views that depart from a broader imagining of worlds-within-the-world. This intersection also highlights how critical visual experiments today can help us rethink our role in building worlds that are grounded on earth, and that are rooted in interdependence, and that foreground mutual accountability.
Alongside this group of artists, the exhibition will include in person talks and discursive engagements with artists and writers who will provide critical new perspectives on the urgency of repositioning the narratives of outer space travel.
See details on the screening program, talks, and other activations below:

Nuotama Bodomo, Afronauts, 2014 | 14min | HD.
In 1964, amid the Cold War and on the eve of Zambia's independence from Britain, schoolteacher and activist Edward Mukuka Nkoloso told an Associated Press reporter, "Some people think I'm crazy, but I'll be laughing the day I plant Zambia's flag on the moon." Five years before the US would launch Apollo 11, Nkoloso was busy running Zambia's National Academy of Science, Space Research and Philosophy. For filmmaker Nuotama Frances Bodomo, the question of whether Matha would make it to the moon is almost irrelevant. While "based on true events," her 2014 short Afronauts renders the story of the Zambian Space Program as a dreamlike work of speculative fiction, contemplating the larger ramifications of launching the Black body into space against the backdrop of the independence movements taking place across the African continent in the 1960s.
Alice dos Reis, See you later Space Island, 2022 | 18min | HD.
In the middle of the Atlantic, Helena rekindles an old friendship with Ceu, an astrophysicist who recently relocated to the Azorean island of Santa Maria off the coast of Portugal to study exoplanets. Caught between the island's geological inheritance and the vastness of the cosmos, the two friends reconcile with the various space exploration infrastructures that are stationed on the island. A work of science-fiction inspired by the various space resources currently existing in Santa Maria, See You Later Space Island is a loose tale of friendship and endurance. Santa Maria is also the place in which Portugal attempted to establish satellite launcher, a project that was never realized.
Zahy Tentehar, Karaiw a'e wà (The Civilized), 2022 | 15min | HD.
Karaiw a'e wà (The Civilized, 2022) considers Indigenous Futurism as a methodology for countering the historical erasure of Indigenous knowledge, technologies, and creative forms. In a technocratic apocalyptic scenario the artist challenges what it means to be civilized as an image rooted in coloniality. In the work, the invention of civility is put to the test along with the ideals of progress, intellectuality, and modernization. The short is motivated by the desire to combat stereotypes and value Indigenous epistemologies and cosmologies.
Zahy Tentehar, Máquina Ancestral: Ureipy, 2023 | 11min | HD.
The film Máquina Ancestral: Ureipy is a performance and science-fiction short film that proposes reflections on the loss of our senses motivated by our need to change our reality. In the video, a differently-abled character called "robotic entity" travels to an unidentified space in search of his identity, which was lost in time. He desires to become human. In Máquina Ancestral, the robotic entity evermore aware of the failures and perhaps even ruination of the human condition refuses to succumb to the loss. Concerned with future paths and recognizing the importance of the past, the robot seeks to redeem the human species by rescuing its inherited ancestral knowledge. The film is inspired by silent cinema, with inaudible dialogues, but subtitled for a better reading of the work.
Subash Thebe Limbu, Ningwasum, 2021 | 44min | HD.
Ningwasum is a Yakthung science fiction film narrated by Miksam, a time traveler from a future Indigenous Nation. Ningwasum follows two time travelers Miksam and Mingsoma, played by Subin Limbu and Shanta Nepali respectively, in the Himalayas weaving indigenous folk stories, culture, climate change and science fiction. The film explores the notion of time, space and memory, how realities and the sense of now could be different for different communities. Ningwasum imagines a future from Indigenous perspective where they have agency, technology, sovereignty and also their indigenous knowledge, culture, ethics and storytelling still intact. Ningwassum was filmed mostly in Sharwa (Sherpa) Nation, Yakthung (Limbu) Nation and Newa (kathmandu) Nation.

Program begins at 12pm, Tuesday–Saturday
12:00 - Afronauts (2014), 14mins.
12:15 - See you Later Space Island, (2022), 18mins.
12: 40 - Karaiw a'e wà (The Civilized, 2022), 14mins.
12: 55 - Maquina Ancestral (2023), 11mins.
1:05 - Ningwasum (2022), 45mins.
2:00 - Afronauts (2014), 14mins.
2:15 - See you Later Space Island, (2022), 18mins.
2:40 - Karaiw a'e wà (The Civilized, 2022), 14mins.
2:55 - Maquina Ancestral (2023), 11mins.
3:05 - Ningwasum (2022), 45mins.
4:00 - Afronauts (2014), 14mins.
4:15 - See you Later Space Island, (2022), 18mins.
4:40 - Karaiw a'e wà (The Civilized, 2022), 14mins.
4:55 - Maquina Ancestral ( 2023), 11mins.
5:05 - Ningwasum (2022), 45mins.
Nuotama Bodomo is a Ghanaian filmmaker. Her award-winning short films have played at festivals including sundance, the Berlinale, Telluride, Rotterdam, sxsw, and New Directors/New Films. Afronauts was exhibited at the Whitney museum as part of the group show dreamlands: immersive cinema and art, 1905-2016 and at the 2018 Venice Biennale architecture (us pavilion) as part of dimensions of citizenship.
Alice dos Reis (Lisbon) is a visual artist. They have exhibited, solo and in group, at the Serralves Museum for Contemporary Art (Porto), Kunsthalle Lissabon (Lisbon), Gallerie D'Italia (Torino), 5th Istanbul Design Biennale (Istanbul), RADIUS CCA (Delft), Porto Municipal Gallery (Porto), PuntWG (Amsterdam), Galerie InSitu (Paris), Display (Prague), Gallery and Lehmann + Silva, among others. Their films have been shown at the Palais de Tokyo (Paris), EYE Film Museum (Amsterdam), Platform Vdrome, and Museum of the Moving Image (NYC), as well as in various international film festivals. They co-run Pântano Books, an independent poetry press.
Zahy Tentehar (Brazil) lives and works in Rio de Janeiro. Tentehar is a multidisciplinary artist, filmmaker, actor, and activist from the Tentehar-Guajajara people. Tentehar's video works examine contemporary indigenous identities and experiences amidst ongoing struggles for land rights and against ecological exploitation in the aftermath of colonial invasion. Her works have previously been shown in exhibitions including Dja Guata Porã: Indigenous Rio de Janeiro at Museu de Arte (MAR), Rio de Janeiro, Brazil (2017); Nakoada: Strategies for Modern Art at the Museu de Arte Moderna do Rio de Janeiro (MAM-Rio), Rio de Janeiro (2022), and a recent solo presentation at the Museu de Arte de São Paulo (MASP), São Paulo (2021).
Subash Thebe Limbu (Limbu) artist and comes from the people of Dharan, Nepal. He works with sound, film, music, performance, and painting. Subash has a MA in Fine Art from Central Saint Martins (2016), BA in Fine Art from Middlesex University (2011), and Intermediate in Fine Art from Lalit Kala Campus, Kathmandu. His works are inspired by socio-political issues, resistance, and science/speculative fiction. Indigeneity, climate change, and Adivasi Futurism are recurring themes in his works. He is based in Newa Nation (Kathmandu) and London.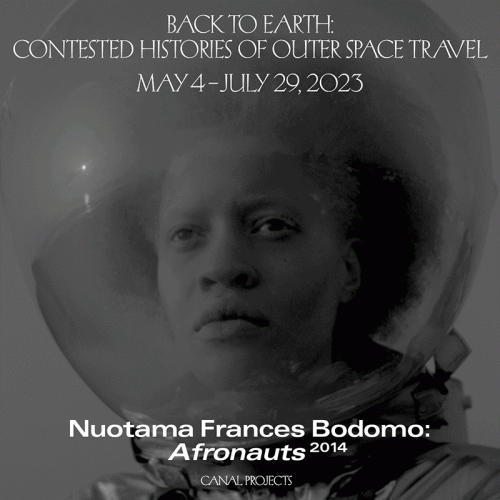 Subash Thebe Limbu, NINGWASUM (still), 2021. 44 min, HD. © Subash Thebe Limbu.

Alice dos Reis, See You Later Space Island (still), 2022. 18 min, HD. Courtesy of the artist.
Installation views courtesy of Izzy Leung.