Basement Cinema: "Outlaws of the Marsh"
December 1, 2022

Begins at 6pm
Add to calendar
Canal Street Research Association inaugurates their winter/spring programming with Basement Cinema, an after-hours, underground series in homage to the legacy of kung-fu movie houses along Canal Street.
The first event in the series centers around the tale of The Water Margin (ca. 1600), a classic work of Chinese literature, which narrates the story of outlaws rebelling against government greed and tyranny in the marshes/margins of Mount Liang. Shielded by the mountain, the bandits redistribute goods stolen from the corrupt empire to those on the outskirts. Canal Street Research Association will present the 1972 adaptation of the story, alongside a reading of a new experimental translation by the translation collective WATT.
Part of a series that looks at marshes, counterfeits, corruption, and underground poetics, "Basement Cinema: Outlaws of the Marsh" will address The Water Margin's own murky origins, and how these destabilize the very concept of a single, rightful author or owner.
Canal Street Research Association is currently in residence in the lower-level library at Canal Projects.

Established in 2015, Shanzhai Lyric investigates global trade networks, informal markets, and the poetics of counterfeit goods. 山寨, or "shanzhai," means "counterfeit" in contemporary Chinese usage but translates literally to "mountain hamlet," in reference to a place on the outskirts of empire where bandits abscond with goods to redistribute among those on the margins. In 2020, Shanzhai Lyric founded Canal Street Research Association in an empty storefront on Canal Street, New York City's counterfeit epicenter, delving into the cultural and material ecologies of the street and its long history as a site that probes the limits of ownership and authorship
WATT is a pen-mind initiative, involving Ho King Man, Casey Robbins and others. Previous translations include a collection of poetry by the late photographer Ren Hang, Word or Two (2017).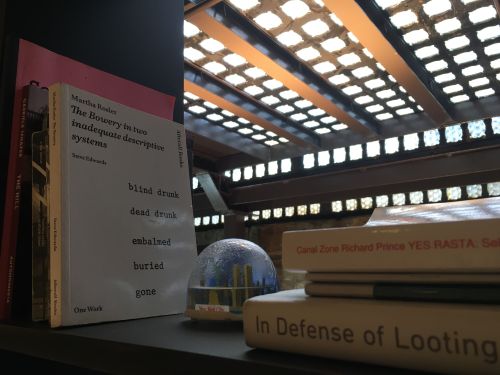 Shanzhai Lyric, Canal Street Research Association (basement), 2022.