Ecological Tuning Session
An Afternoon with Nocturnal Medicine on Climate Grief
March 18, 3pm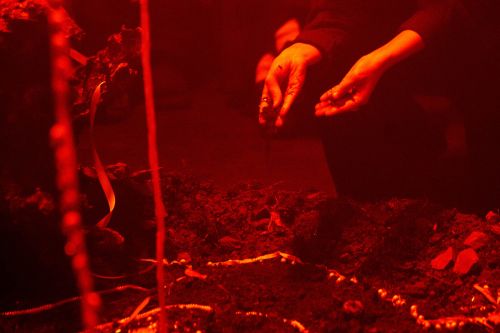 Organized by Nocturnal Medicine, Ecological Tuning Session is a collective experience that invites participants into their internal landscapes of ecological crisis and climate change. Understanding that today's layered environmental crises evoke a complexity of emotion in many of us—including fear, anger, grief, powerlessness—Ecological Tuning Session aims to offer a place for these emotions, to approach them with respect and care, and to invite them to become channels towards deeper accountability and connection to our environment and to one another. 
Through an original sound score, guided meditation, collective ritual, and play with natural materials, participants will be invited to sink beneath intellectual responses to climate change, and into the emotional, the spiritual, the embodied. Unfolding on a late Saturday afternoon, Ecological Tuning Session imagines a world in which gathering to connect with our ecology and our roles within it is an urban cultural norm.
Doors open at 3pm, meditation begins at 3:30pm

Ecological grief: the tumult of emotion felt in response to environmental degradation. To blazing wildfires, superstorms, mass extinctions, biblical floods, forest diebacks, droughts, oceanic dead zones, fatal heat, etc. Because we are embedded in this world—what happens to you, happens to me. And feeling our grief is a powerful act. In each of us may roil a different mixture of rage, sorrow, confusion, helplessness — and on and on. Grief is a complexity of responses.
When we allow our grief to inhabit us, we invite the immense truth of our embeddedness within our world to become real for us. Feeling our grief is an act of alliance with those under threat, and it is a repudiation of forces that encourage us to repress our feelings in favor of continued ecological disconnection. Instead, we open ourselves up to the possibility of something inside ourselves shifting, even if temporarily, through the cultivation of an embodied sense of the plight of another. Being a person embedded in relationships—being ecological— means doing this over and over and over again, forever letting ourselves be changed through the essential intimacies that compose our lives.
The emotions that come with tuning into our environmental reality are extraordinarily painful and overwhelming. So many big feelings, and yet no few resources for helping us confront and metabolize them. The temptation to tune the feelings out is strong, as is the descent into apathy and doom.
There is a profound need for spaces that hold us as we reckon with what we are seeing and feeling. And it is this need that we are responding to in our work. We create spaces where people can tap into hope, healing, imagination, and regeneration, by way of encountering darkness and truth.

Nocturnal Medicine is a nonprofit studio building spiritual resiliency in the face of ecological crisis. Founded by Larissa Belcic & Michelle Shofet in 2016, the studio creates collective experiences, installations, & media centering climate grief, environmental injustice, & healing. Nocturnal Medicine is dedicated to repairing the harmful disconnect between people & nature, restoring healthy relationships, & cultivating spiritual resiliency in the face of environmental challenges. Drawing on inherited traditions and contemporary cultural practices, their work is often addresses larger-than-life challenges like climate change & extinction. They understand this work to be a continuation of ancient practices for connecting with one another, the planet, & all those we share it with. 
Amongst Nocturnal Medicine's body of designed experiences, they have created climate-aware seasonal rites, chapels for pollinator extinction, climate grief raves, & a digital temple for wildfire loss. Their work has been celebrated in The New York Times & Bloomberg's CityLab as bringing a cutting-edge, soul-centered approach to addressing the climate crisis and its psycho-emotional impacts. They have designed & produced immersive social experiences across diverse platforms, including in nightlife (Nowadays NYC, Gospel), cultural institutions (Lincoln Center, Opus 40), & academic spaces (MIT, Harvard, Yale).
Both Belcic & Shofet lecture on sustainability, design, & ecological consciousness at RISD & The New School, respectively, & have presented their work at a range of institutions including The New Museum, The Brooklyn Museum, The International Earth Day Live Conference, & universities across the country.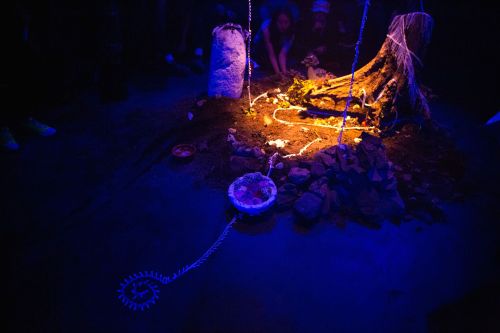 All photos by Mengwen Cao