Your Time is My Time Book Launch
&
The Aphotic
Performance by Emilija Škarnulytė and Shamica Ruddock
November 15, 6–9pm
Book Launch 6pm, Performance 7:30pm
Free RSVP
Join us for the New York launch of Your Time Is My Time, and a special performance collaboration, The Aphotic, by Emilija Škarnulytė and Shamica Ruddock!
Your Time Is My Time (2023) analyzes contemporary artistic practices among artists from Estonia, Latvia, and Lithuania in the context of evolving global networks and art production. The book focuses on artists from the Baltic countries who have been living and working outside of the region for longer periods of time or who have been engaged in a nomadic lifestyle, constantly traveling between different cities and countries. It explores different aspects of migration, precariousness, belonging, and community-building in the practices of these artists, in order to reflect on how the working conditions shape their artworks. Your Time Is My Time also captures a turning point in the perception of temporal, geographic, and social proximity, and the shift towards finding more sustainable artistic methods and practices in response to deepening economic and ecological distress. Has this current era of crises resulted in new ways of working? How has the meaning of home and workplace changed?
The book is presented by editors Annika Toots and Merilin Talumaa. The launch at Canal Projects includes a discussion between artists Emilija Škarnulytė, Viktor Timofeev, and Sandra Skurvida, whose contributions and essay are included in the book, moderated by Kari Conte. Books will also be available for purchase.
The Aphotic is a performance collaboration with Emilija Škarnulytė and Shamica Ruddock.
A live score created by Ruddock and Škarnulytė for this performance. Deep sub frequencies will reverberate throughout the room, collapsing through the body. The meditative drone of manipulated sine waves are interspersed with pulsating rhythmic loops. Additional processed live vocals in antiphony with the gentle timbre of a bamboo sax will come together to immerse attendees in the Aphotic.
The event is co-organized by Estonian Contemporary Art Development Center (ECADC) / Kai Art Center and Roots to Routes. Supported by Baltic Culture Fund, Estonian Ministry of Culture and Estonian Consulate in New York.
Your Time Is My Time is edited by Annika Toots and Merilin Talumaa.
Texts are written by Inga Lāce, Sandra Skurvida, Emma Duester and Neringa Černiauskaitė.
The book includes visual contributions by Žilvinas Kempinas, Vytenis Jankūnas, Viktor Timofeev, Ella Kruglyanskaya, Daiga Grantiņa, Ingel Vaikla, Pakui Hardware, Merike Estna, Agnė Juodvalkytė, Katja Novitskova, Dorota Gawęda & Eglė Kulbokaitė, Lina Lapelytė, Evita Vasiļjeva, Emilija Škarnulytė, Laura Põld and Maria Kapajeva
The book is published and distributed by Mousse Publishing and Roots to Routes. Design by Kert Viiart.

Kari Conte is a curator and writer focused on global contemporary art based in New York and Turkey. Her work is invested in ecological thinking and feminist perspectives. She was a Fulbright Senior Research Scholar in Istanbul in 2021 and 2022. Formerly, she was Director of Programs and Exhibitions at the International Studio & Curatorial Program (ISCP) in New York between 2010 and 2020, where she is currently Senior Advisor. Additionally, she is Residency Curator for Kai Art Center in Tallinn. She has curated more than forty exhibitions; these include recent solo presentations by Fatma Bucak (2022); Alban Muja (2021); Sonia Leimer (2019); Chiara Fumai (2019); Hikaru Fujii (2018); and Jennifer Tee (2018). She regularly contributes to books, exhibition catalogs, and magazines, and has lectured and taught at numerous institutions.
Shamica Ruddock works between sound and moving image to consider the ways Black diasporas are engaged and explored. In particular, they are interested in how Black technosonic production functions as a form of speculation, narrativizing, and worldmaking. They revisit traditional practices, such as Afro-Caribbean puppetry, masquerade, and oral folk storytelling traditions within a broader methodology of speculative worldbuilding and imagined futures, where paths connect ancestral and future kin.
Emilija Škarnulytė's films consist of a series of politically active visions, in which she investigates human activity and invisible structures of larger systems of power. She explores questions of the beginning of the universe in relation to the geological ungrounding processes, invisible structures, geo-traumas and deep time. Through her films, Emilija looks at "truth-seeking voyages," and examines the conceptual and technological methods that underpin them as well as the abstract, mythological language they produce.
Sandra Skurvida works in the transart sphere as a historian, writer, and curator. Her book, John Cage Composing, Computing, and Curating, is forthcoming from Routledge, and recent publications include "Barbad Golshiri's Acts of Alterity" in ArtMargins (MIT, 2023) and "I as a Readymade" in Your Time Is My Time (Mousse, 2023). On September 16, 2023, she curated Woman, Life, Freedom: Year Zero at e-flux Screening Room. She was born in Vilnius and lives in New York and Bremen.
Merilin Talumaa (b. 1986, Tallinn, Estonia) is a curator, art historian, and cultural manager who lives and works in Paris and Tallinn. She has graduated from the Department of Art History and Visual Culture at the Estonian Academy of Arts. She is also a graduate of Environmental Studies from the University of Tartu. Her practice has evolved around research about artists' studio and work environments and notions of migration and belonging. Ongoing projects include Roots to Routes (since 2020), a curatorial initiative gathering a community of artists, curators, and cultural producers. Prior to the book Your Time Is My Time (Mousse, 2023) she compiled and edited (with Annika Toots) the book Artists' Spaces: 16 studio visits (Estonian Academy of Arts Press, 2017).
Viktor Timofeev (b. 1984, Riga, Latvia) is an artist based in New York. Timofeev's multidisciplinary practice is informed by personal experiences, speculative imaginings and everything in between. Working across generative software, video, painting, installation and sound, Timofeev combines these mediums to create semi-fictional environments. He received his MFA at the Piet Zwart Institute in Rotterdam and his BFA at Hunter College in New York. He hosts monthly events that include screenings, performances and sensory deprivation listening sessions at No Moon, an event space in Brooklyn he co-founded in 2018. Recent solo exhibitions include DOG at Interstate Projects in New York (2021), God Objects at Karlin Studios / Futura in Prague (2020), God Room at Alyssa Davis Gallery in New York (2018) and Stairway to Melon at Kim? Contemporary Art Center in Riga (2017). Recent group exhibitions include Tallinn Photomonth in Tallinn (2023), Digital Intimacy at the National Gallery Prague in Prague (2021), the 14th Baltic Triennial at Contemporary Art Center in Vilnius (2021), Unexpected Encounters at the Latvian National Museum of Art (2019) and Somewhere in Between at Bozar in Brussels (2018).
Annika Toots (b. 1985, Tartu, Estonia) is an art and photography historian, curator, and editor living and working in Tallinn. In her research she is mainly interested in artistic practices that deal with materialising the past and representations of landscape, focusing mainly on photography. She is a lecturer on photo theory and history at the Estonian Academy of Arts. Her more recent research projects include working with the vast number of glass negatives by Estonian photographer Jaan Riet (1873–1952) at the Film Archive of the National Archives of Estonia, and exploring questions of digital photographic heritage. She has edited art-related magazines such as Estonian Art (2019–2021) and Studies on Art and Architecture (2021–present) as well as the books Artists' Spaces: 16 studio visits (with Merilin Talumaa, 2017) and Displaced Time (with Aap Tepper, 2021).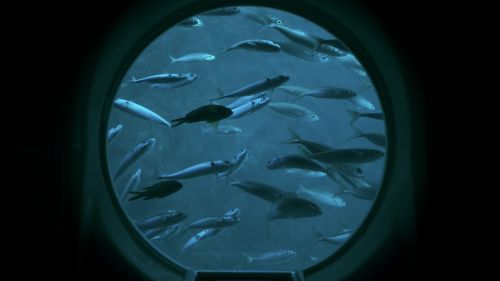 Emilija Škarnulytė. Video still, image courtesy the artist.